GENUINE MAZDA BRAKES FROM John Hine Temecula Mazda KEEP YOUR VEHICLE PERFORMING AT ITS BEST
GENUINE MAZDA BRAKES HAVE A LIFETIME WARRANTY
Genuine Mazda Brakes make sure you stop smoothly. Designed for specific Mazda models, we ensure that they're the highest-quality brakes available.
GENUINE MAZDA BRAKES VS. AFTERMARKET BRAKES
Aftermarket brakes can be as unpredictable as the road you're driving on. Genuine Mazda Brake pads have an advantage in braking effectiveness. See the comparison chart* below.
SCHEDULE BRAKE SERVICE
STOPPING-DISTANCE COMPARISON
(MAZDA = 100% GENUINE)
*Information based on an indendent study performed for Mazda Motor Corporation in February 2004.
KNOW WHEN TO INSPECT AND REPLACE YOUR BRAKES
To keep braking performance at its optimum level, an inspection every six months is recommended. Because brake pads and shoes are hidden behind the wheels, it is difficult to see how much product life is remaining. See your authorized Mazda Dealer for a brake inspection and ask about our Lifetime Limited Warranty on Genuine Mazda and Value Products by Mazda Brake Pads and Shoes.
Welcome To
Our Service Department
The service team at your Mazda Dealer has been factory-trained to provide you with exceptional service and ensure your vehicle is performing at its best. Mazda Full Circle Service dealerships use Genuine Mazda Parts and equipment to make sure your Mazda receives the finest care possible.
Mazda service merges speed and quality to offer you even greater value and convenience. Our precision service system expedites the maintenance process, providing a seamless experience that allows you and your vehicle to get back on the road as quickly as possible.
CONTACT US
HOW OFTEN TO REPLACE A CAR BATTERY
Temecula Valley drivers frequently ask how often to replace a car battery. Industry experts recommend you replace your battery about every 4-5 years, although depending on a few different factors, your car battery life can vary. Read on to learn more about proper car battery maintenance from the expert team at John Hine Temecula Mazda.  It is our mission to keep those that commute to San Diego, Riverside, and Orange County safe on the road. Proper vehicle maintenance at our Mazda service center is an important step in that process.
HOW TO KNOW IF YOUR BATTERY NEEDS TO BE REPLACED
Wondering how to know if your battery needs to be replaced? There are some warning signs to look out for, so you don't end up stranded on El Cajon roads. The following are just a few indicators to watch out for:
Dimming headlights
More frequent need for engine revving or jumpstarts
Takes longer to start the engine when you turn the key/push the button
Unusual power fluctuations
Knowing how to test a car battery will be helpful in learning how much life your battery has left in it.
HOW TO TEST A CAR BATTERY
It is important for Temecula Valley and Menifee Valley drivers to know how to test a car battery. This test can be done either here at our Mazda service center or at home in Lake Elsinore.
The Headlight Test:
Turn on the engine, keep the car in park, and turn the headlights on.
Rev the engine, and see if the headlight brightness changes.
If the headlights get brighter, that can indicate the battery is weak and in need of service.
Using a Digital Multimeter:
Set the voltmeter to 20 DC volts.
Under the hood, touch the negative terminal (black) with the negative meter probe (also black).
Touch the positive terminal (red) with the positive meter probe (also red)
Have someone else turn on the headlights and check the voltmeter reading.
At 80℉, 12.5 volts or higher indicates a fully charged battery; 12.3 volts indicates a 75% charge; 11.8 volts or less indicates a 25% or less charge.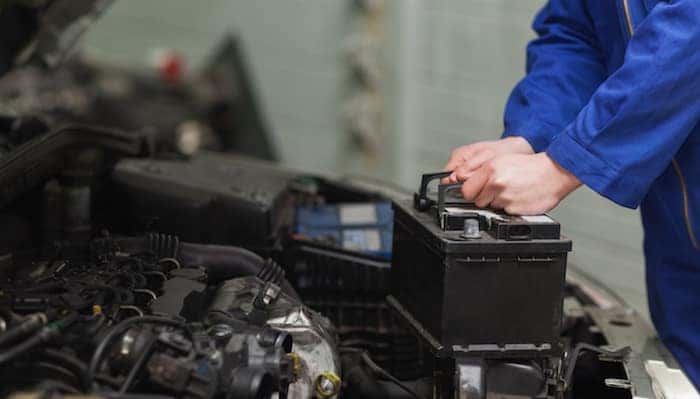 WHAT CAUSES CAR BATTERY DETERIORATION?
There are several factors that can impact battery deterioration, including:
Prolonged heat in warm climates
Vibrations from rough road conditions
Jumpstarts
Time
For the best idea of how long your car battery should last with proper care, consult your owner's manual or maintenance schedule.
HOW MUCH IS A REPLACEMENT CAR BATTERY?
Interested in Mazda OEM parts at the best price? Our Mazda service center offers Mazda coupons, making express services more affordable than ever before. Car batteries typically cost between $75 and $120. Premium batteries can cost up to $200. Hybrid car batteries are the next step up, costing anywhere between $1000 and $6000. When your battery is due for a replacement, Mazda OEM parts in Corona can be hard to come by, but as your local authorized Mazda dealership, John Temecula Hine Mazda has you covered.
GET YOUR BATTERY REPLACED AT JOHN HINE MAZDA
Find Mazda OEM parts and quality express services at John Hine Temecula Mazda, your authorized Mazda service center. Whether you're looking for Mazda coupons or other tips like how often to change your oil, be sure to explore our website to stay informed.